Visit Conwy guide to accommodation, attractions, business and community.
Located on the North coast of Wales, in a spectacular settling, only a few miles from Llandudno and the mountains of Snowdonia forming the backdrop for this dramatic setting.

Conwy is world famous for its medieval castle. The castle and its walls were built between 1283 and 1289, it plays a big part in Conwy as it is one of its biggest tourist attractions. Conwy is a good place for tourists as it has plenty of shops, great accommodation, and plenty to do around the Conwy Quay area.
Within this directory you will find information about:

• The history of Conwy
• Where you can stay
• What you can do
• Where you can eat
• What businesses there are

We hope you will find this directory both informative and useful.
Featured Accommodation
The Imperial Hotel - Llandudno Seafront Hotel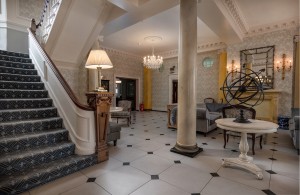 The Imperial is a beautiful Llandudno seafront hotel with a gorgeous
Victorian decor in keeping with the elegance and proud history of Llandudno.
The hotel offers wonderfully decorated, large rooms and the best quality fine dining experience. With a blend of sophisticated contemporary and Victorian features their restaurant provides delicious food with one of the best restaurants Llandudno which also caters for special dietary requirements.
The Imperial staff expertly balance luxury with special attention to each and every guest's needs.
The Imperial is located next to Llandudno's famous theatre, Venue Cymru, and the hotel will provide pre show dining especially for you.
Best of all the rooms at The Imperial overlook the picturesque Llandudno beach and bay.
Glan Aber Hotel - Betws y Coed, Snowdonia

BUSINESS OWNERS - GET FREE EXPOSURE FOR YOUR BUSINESS TODAY! Please feel free to add your business or site to our directory - just click here and add your details. *Basic Listings are free for all businesses based and trading in the Conwy area. We hope you will link back to us!


Help us build VISIT CONWY into a fantastic guide to Conwy.

If you wish to add a site for a friend or on behalf of an organization that's great! They will get the opportunity to amend the listing any time they wish. Do do ask for a link back to our site in return for a listing.
Wales Live News - Keep up to date with local Travel & Tourism news

Managed by Livetech Web Design Llandudno
Tel: 01492 581131
Other Local Sites: | Snowdonia | Go Anglesey | Visit Llandudno | Chester | My Llandudno | Towyn | Visit Conwy |